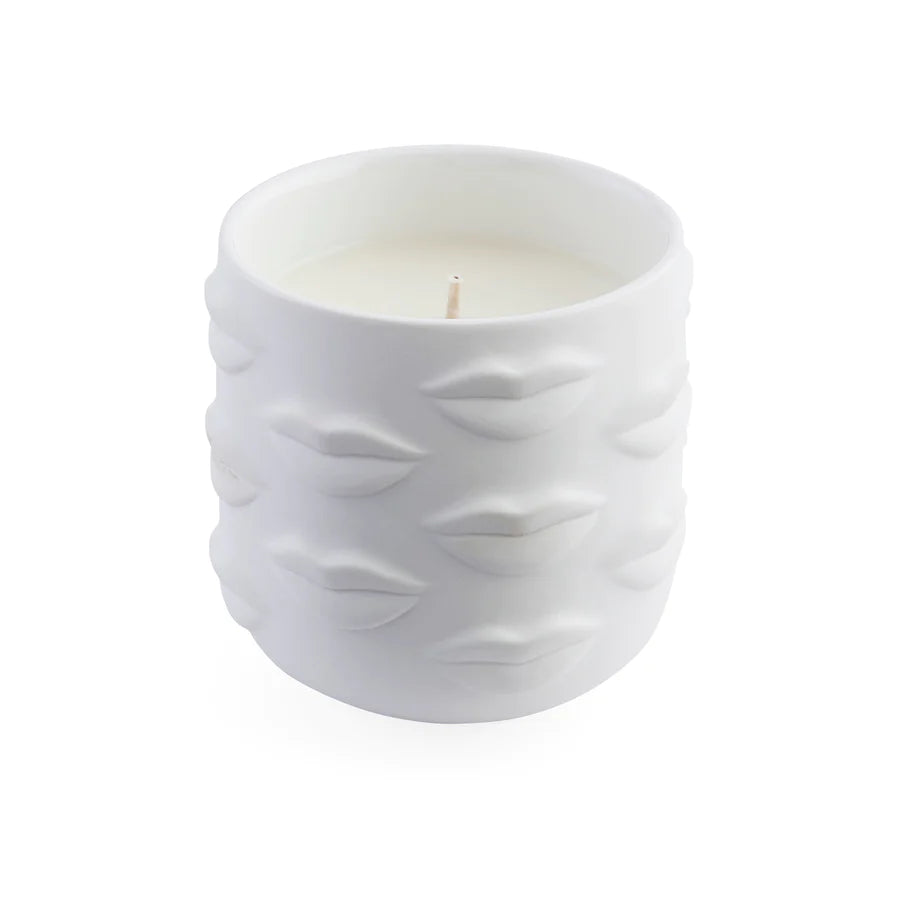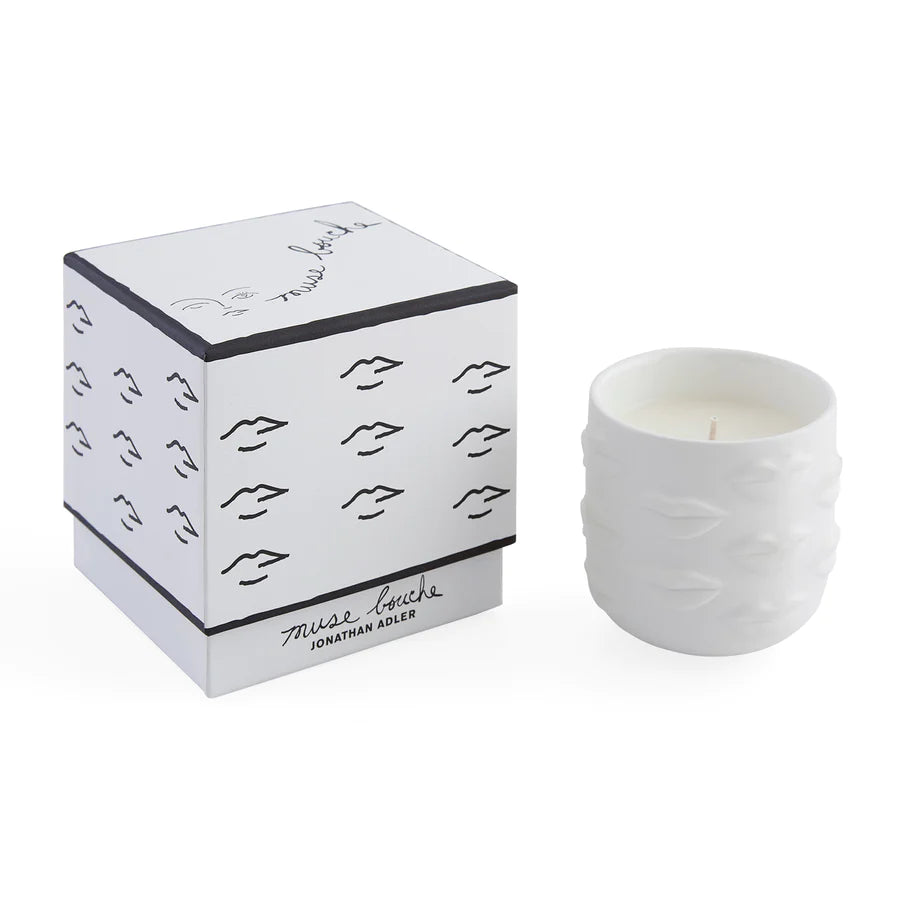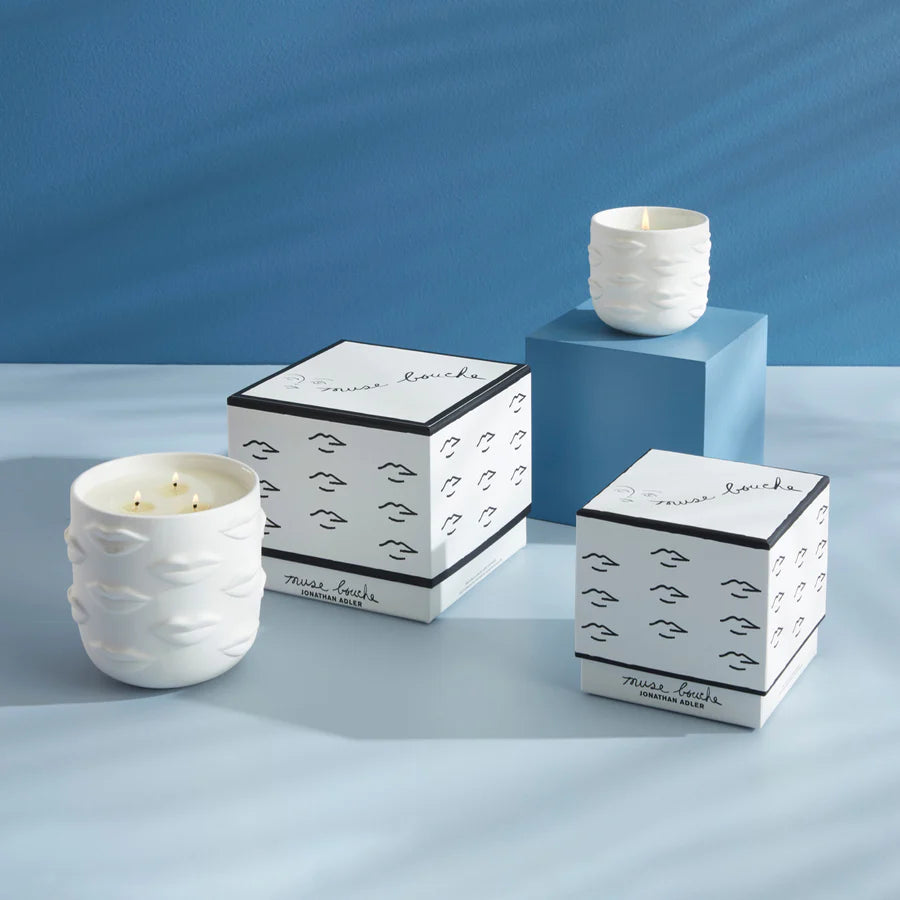 Bouche Muse Candle. Jonathan Adler
SI NECESITAS AYUDA PARA FINALIZAR LA COMPRA ESCRÍBENOS A INFO@ANCLADEMAR.COM O LLÁMANOS AL 913910146
Pickup available at Calle Barquillo 37
Usually ready in 24 hours
Bouche Muse Candle. Jonathan Adler
Calle Barquillo 37
Pickup available, usually ready in 24 hours
Calle Barquillo 37
28004 Madrid
Madrid
Spain
913910146
Jonathan Adler's Muse fragrance collection welcomes a new addition: Muse Bouche Candle—a warm and woody citrus scent poured into a miniature Gala vessel. Also available as a single wick candle.
The scent: a complex blend of bergamot and mandarin, pepper and rose, sandalwood and suede

Fragrance: Bergamot, mandarin, marine, pepper, violet, rose, cedarwood, amber, sandalwood, suede


13 cm Dia; 16,5 cm H
Muse Candles are a soy/paraffin blend for a cleaner burn and stronger scent reach.

Burn time: 75 hours

Trimming the wick regularly to a quarter inch will help your candle burn at a slower rate.


Matte porcelain exterior, clear glaze interior

White wax, three wicks


Vessel and packaging imported, filled in US
Minimize the amount of wax left on sides of the vessel and damage caused by overheating by not burning longer than 2 to 3 hours at a time.


Trimming the wick regularly to a quarter inch will help your candle burn at a slower rate


Always trim the wick before lighting
ANCLADEMAR T-SHIRTS
XS - 45 cm (width arm) x 67.5 cm (length)
S - 48 cm (width arm) x 68 cm (length)
M - 51 cm (width arm) x 71.5 cm (length)
L - 54 cm (width arm) x 73.5 cm (length)
XL - 57 cm (width arm) x 75.5 cm (length)
OXFORD SHIRTS
XS - 96 cm (chest) ; 88 cm (waist); 72.8 cm (length); 65 cm (sleeve)
S - 102 cm (chest) ; 94 cm (waist); 74.8 cm (length); 66.5 cm (sleeve)
M - 108 cm (chest) ; 100 cm (waist); 76.8 cm (length); 68 cm (sleeve)
L - 114 cm (chest) ; 106 cm (waist); 78.8 cm (length); 69.5 cm (sleeve)
XL - 120 cm (chest) ; 112 cm (waist); 80 cm (long); 71 cm (sleeve)
SOFT COTTON SHIRTS
S - 104 cm (chest) ; 72 cm (length)
M - 108 cm (chest); 74 cm (length)
L - 116 cm (chest); 74 cm (length)
XL - 124 cm (chest); 80 cm (length)
CUSTOM SWEATSHIRTS, EMBROIDERED AND STAMPED
Xs - 48 cm (width) x 65 cm (length)
S - 50.5 cm (width) x 68 cm (length)
M - 53 cm (shoulder) x 72 cm (length)
L - 56 cm (width) x 74 cm (length)
XL - 59 cm (shoulder) x 76 cm (length)
NOMADIC ROPE SANDALS
36 - 22.99 cm (length) 
37 - 23.63 cm (length) 
38 - 24.27 cm (length) 
39 - 24.90 cm (length) 
40 - 25.54 cm (length) 
41 - 26.18 cm (length) 
42 - 26.82 cm (length)
43 - 27.46 cm (length)
44 - 28.10 cm (length)
45 - 28.74 cm (length)