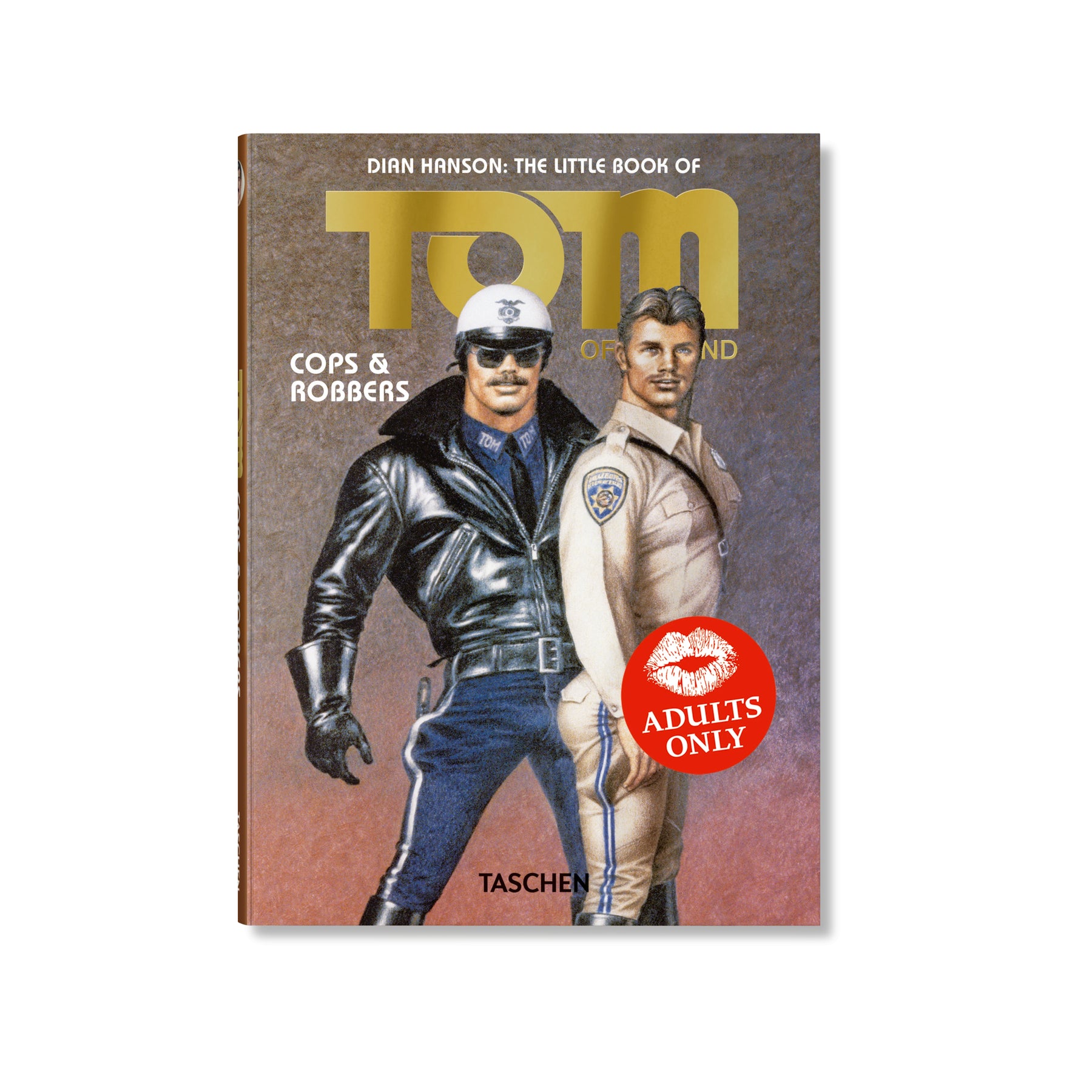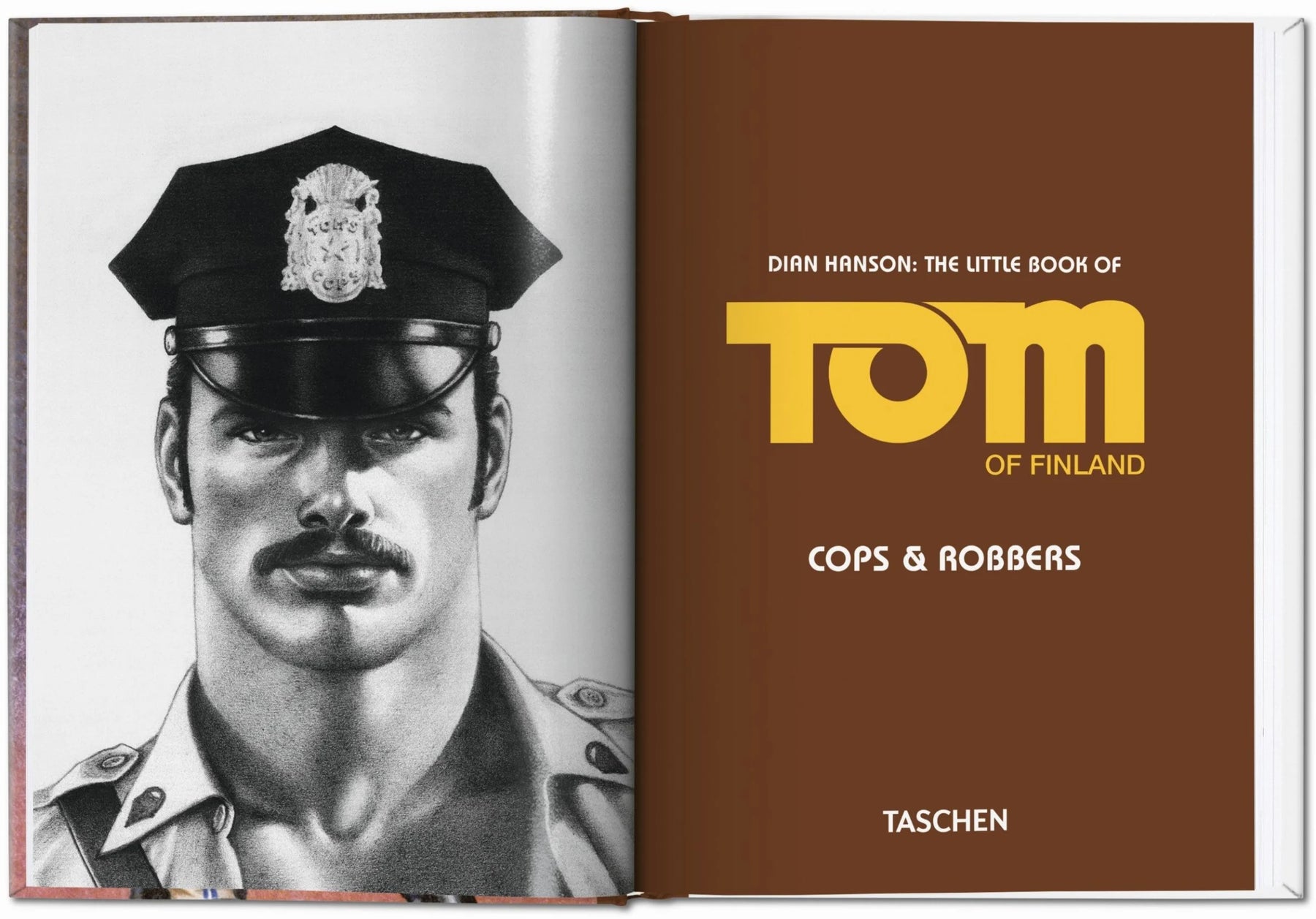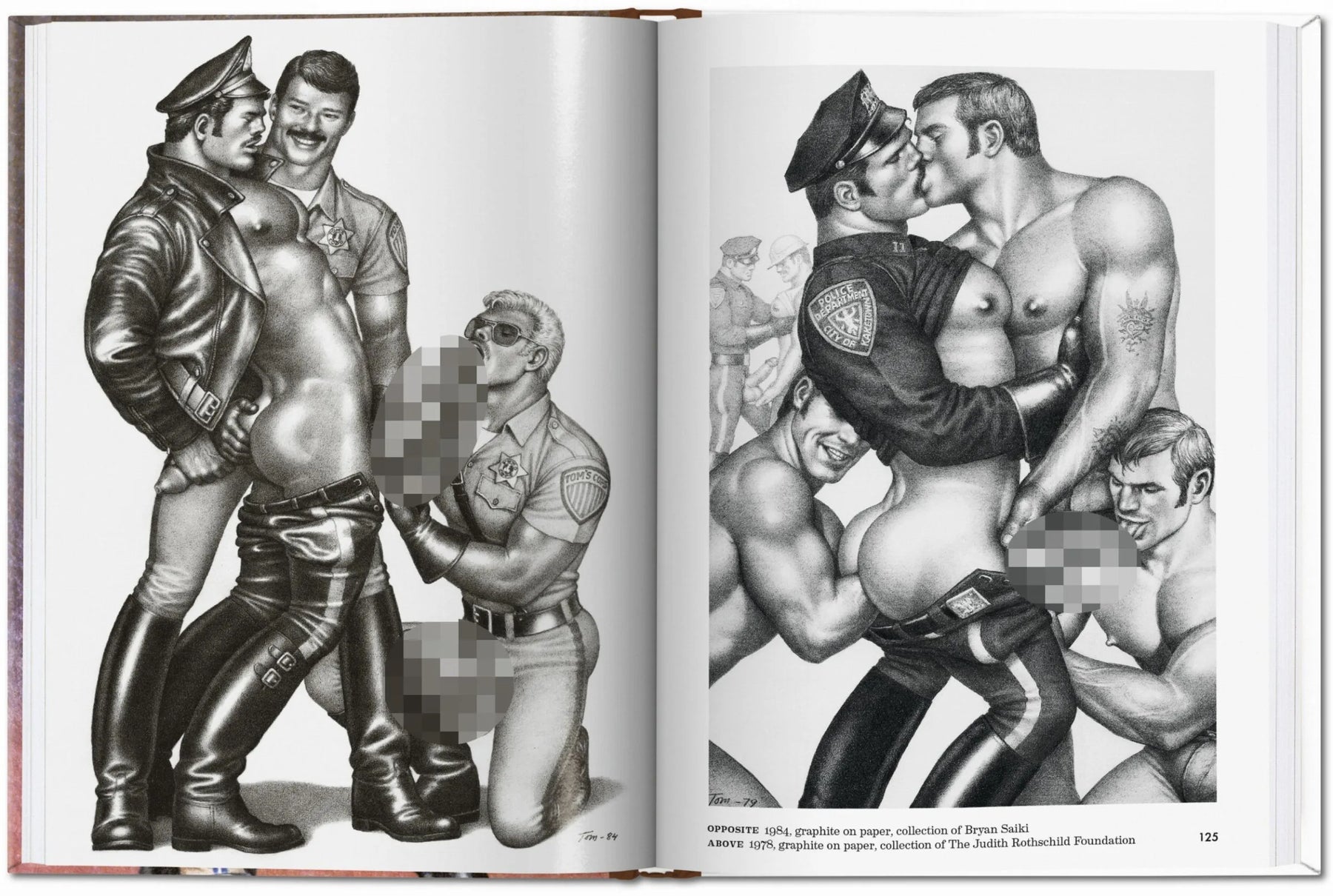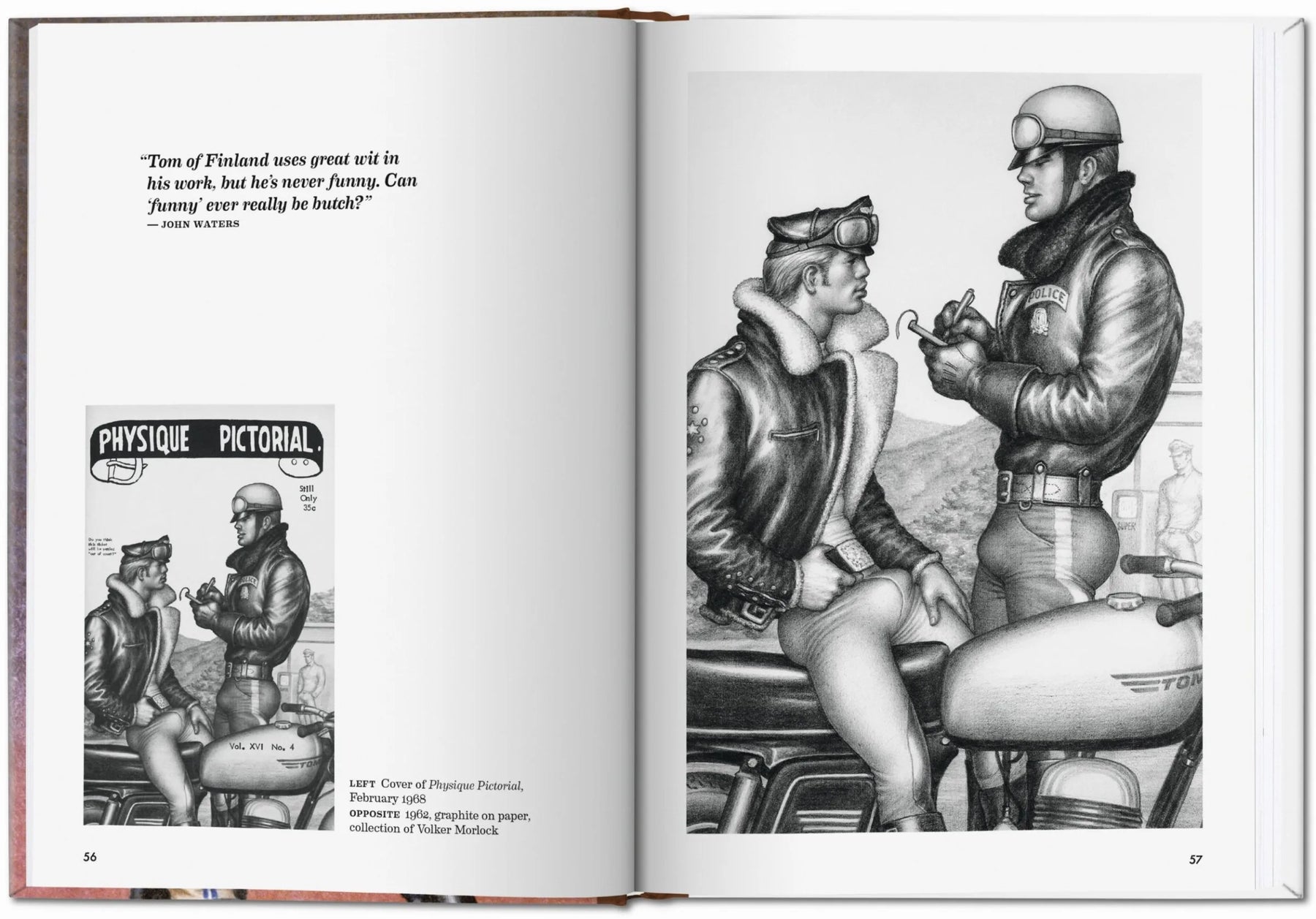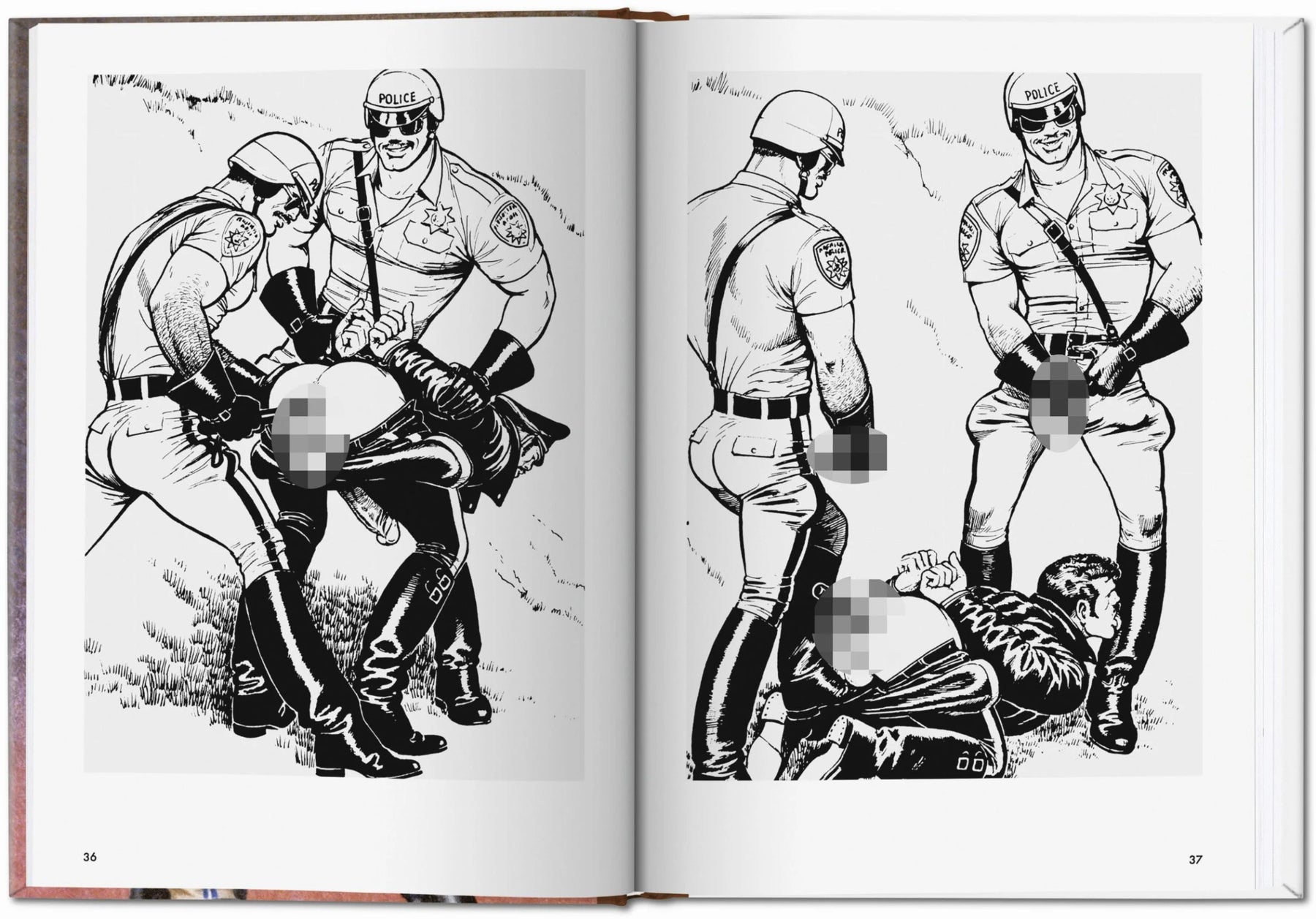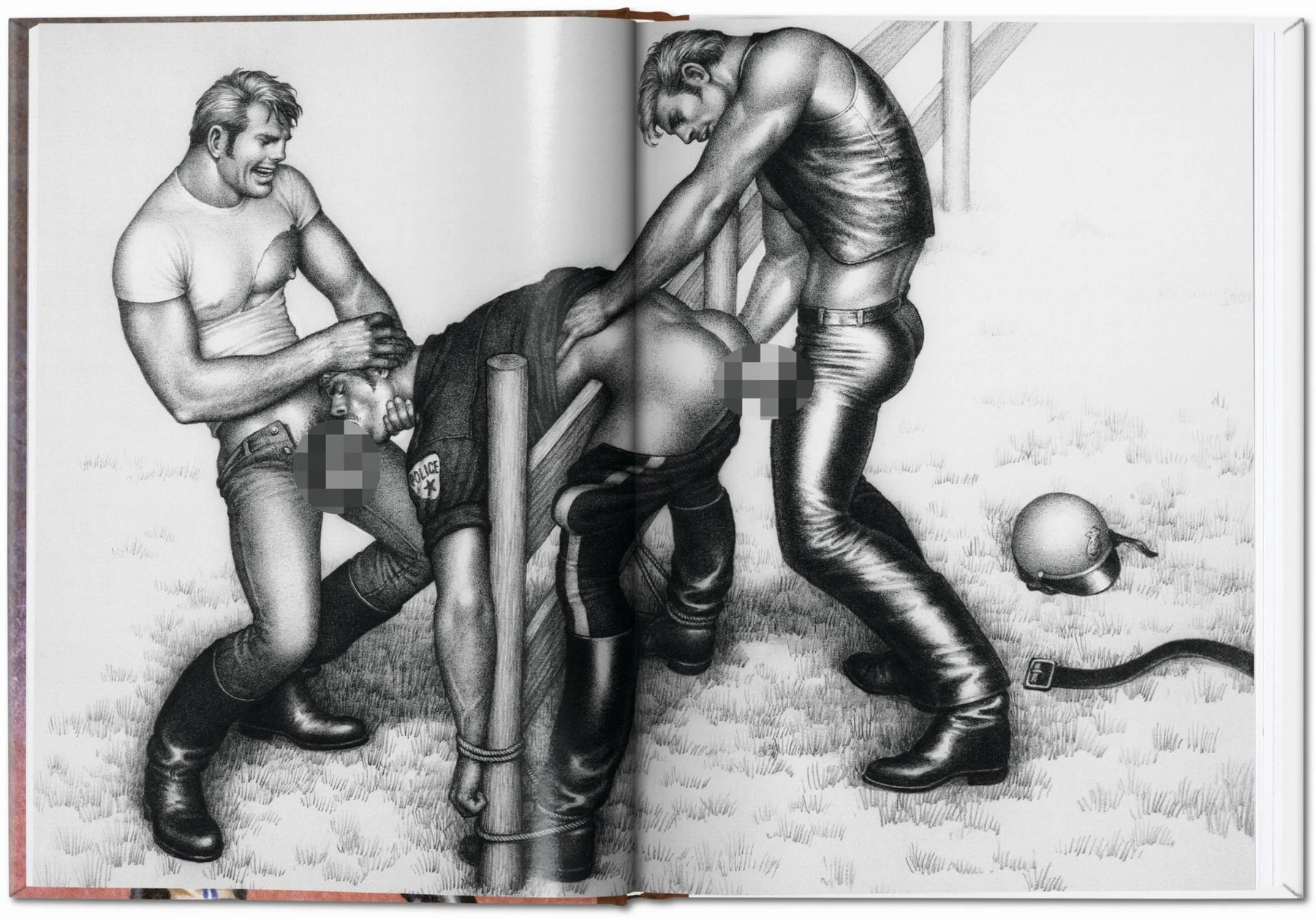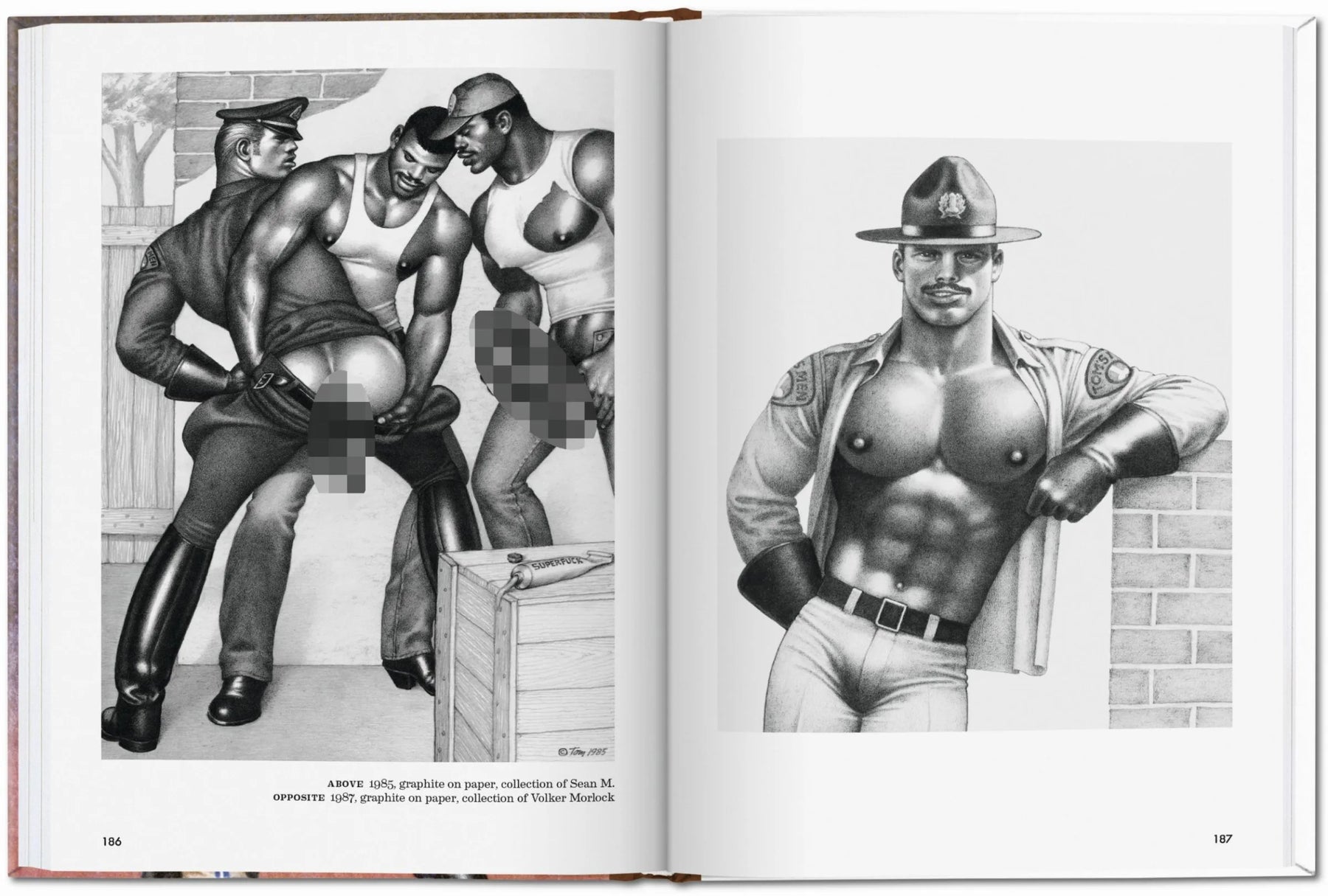 The Little Book of Tom. Cops & Robbers
SI NECESITAS AYUDA PARA FINALIZAR LA COMPRA ESCRÍBENOS A INFO@ANCLADEMAR.COM O LLÁMANOS AL 913910146
Pickup available at Calle Barquillo 37
Usually ready in 24 hours
The Little Book of Tom. Cops & Robbers
Calle Barquillo 37
Pickup available, usually ready in 24 hours
Calle Barquillo 37
28004 Madrid
Madrid
Spain
913910146
El gusto de Tom of Finland por agentes de policía y delincuentes, y la tensión sexual entre ellos, nació en los últimos años de su carrera. "Nunca he estado en la cárcel", comentó en una clase en el Instituto de las Artes de California en 1985, "pero me han explicado que es un mundo cerrado en el que existen distintos roles y la gente se comporta de un modo diferente a como lo hace en libertad. Me fascina. Es otro asunto que no dejo de abordar una y otra vez". Con esto, Tom confirmaba que no dejaba de fantasear con ello una y otra vez, ya que sólo incluía en sus obras aquello que lo excitaba sexualmente.

Los uniformes de los motoristas de la patrulla de autopistas de California eran sus favoritos: color canela y ajustados, con botas altas y suaves guantes de cuero negro. El dibujante diseñó sus propias variantes de tales uniformes, una mezcla de atuendo militar y policial, y creó delincuentes bien machotes pero que los agentes pudieran atrapar, si bien es cierto que, una vez pillados, la lucha de poder podía decantarse hacia cualquier lado. Tom estaba decidido a mostrarlo todo al tiempo que representaba los roles masculinos por igual, y era tan probable que sus policías acabaran felizmente ensartados en un pene criminal como infligiendo un coito de castigo. Criticado por algunos que consideraban que su obra era una glorificación del poder, Tom fue raudo al recordar que el mundo que él creaba era de fantasía, donde todo era posible y consensuado, incluso en prisión.

The Little Book of Tom: Cops & Robbers explora la fascinación de Tom por el mundo de la justicia y la delincuencia a través de una combinación de tiras de cómics, dibujos e ilustraciones a toda página en un formato de 192 páginas compacto y asequible. La selección de fotogramas y carteles de películas históricas, fotografías personales y bocetos de Tom, así como las propias imágenes de referencia del artista, convierten este libro en mucho más que un repaso de sus cómics.
Tapa dura, 14 x 19.5 cm, 0.41 kg, 192 Páginas

ANCLADEMAR T-SHIRTS
XS - 45 cm (width arm) x 67.5 cm (length)
S - 48 cm (width arm) x 68 cm (length)
M - 51 cm (width arm) x 71.5 cm (length)
L - 54 cm (width arm) x 73.5 cm (length)
XL - 57 cm (width arm) x 75.5 cm (length)
OXFORD SHIRTS
XS - 96 cm (chest) ; 88 cm (waist); 72.8 cm (length); 65 cm (sleeve)
S - 102 cm (chest) ; 94 cm (waist); 74.8 cm (length); 66.5 cm (sleeve)
M - 108 cm (chest) ; 100 cm (waist); 76.8 cm (length); 68 cm (sleeve)
L - 114 cm (chest) ; 106 cm (waist); 78.8 cm (length); 69.5 cm (sleeve)
XL - 120 cm (chest) ; 112 cm (waist); 80 cm (long); 71 cm (sleeve)
SOFT COTTON SHIRTS
S - 104 cm (chest) ; 72 cm (length)
M - 108 cm (chest); 74 cm (length)
L - 116 cm (chest); 74 cm (length)
XL - 124 cm (chest); 80 cm (length)
CUSTOM SWEATSHIRTS, EMBROIDERED AND STAMPED
Xs - 48 cm (width) x 65 cm (length)
S - 50.5 cm (width) x 68 cm (length)
M - 53 cm (shoulder) x 72 cm (length)
L - 56 cm (width) x 74 cm (length)
XL - 59 cm (shoulder) x 76 cm (length)
NOMADIC ROPE SANDALS
36 - 22.99 cm (length) 
37 - 23.63 cm (length) 
38 - 24.27 cm (length) 
39 - 24.90 cm (length) 
40 - 25.54 cm (length) 
41 - 26.18 cm (length) 
42 - 26.82 cm (length)
43 - 27.46 cm (length)
44 - 28.10 cm (length)
45 - 28.74 cm (length)