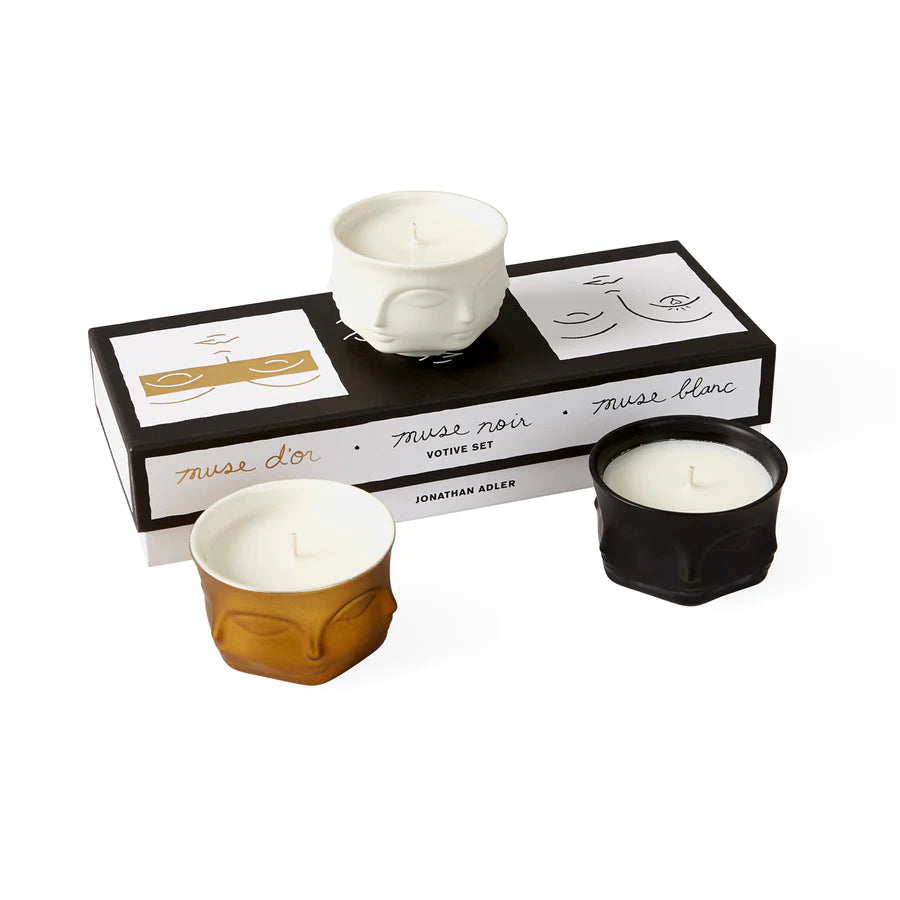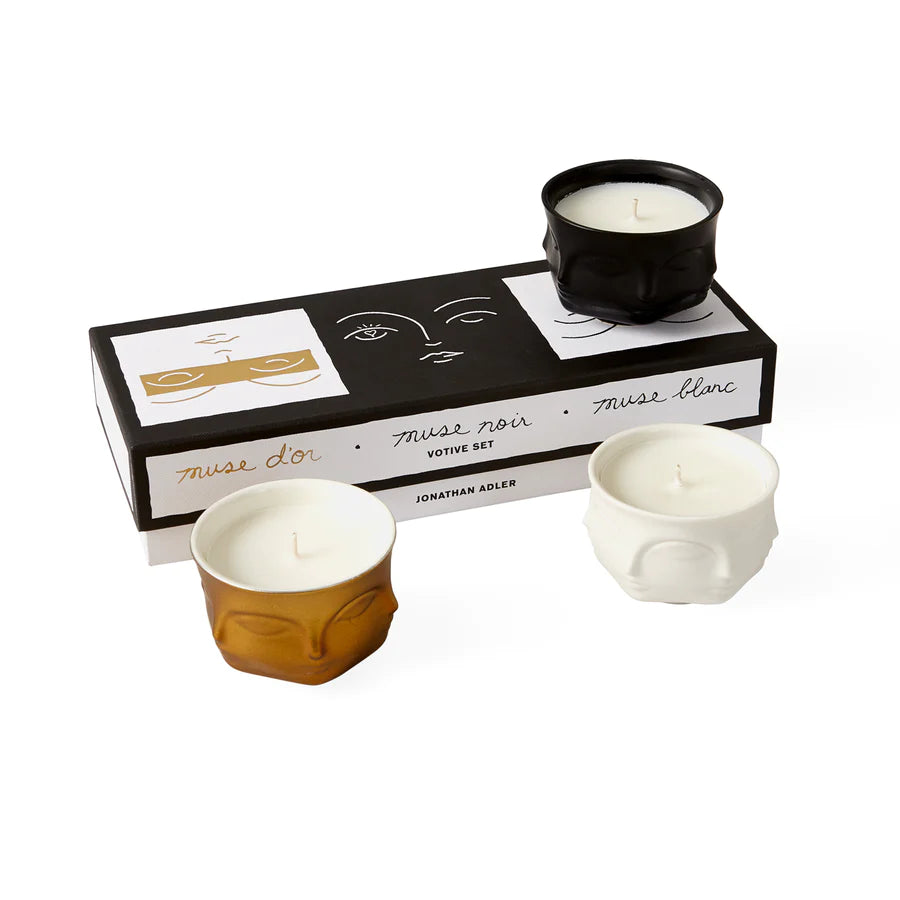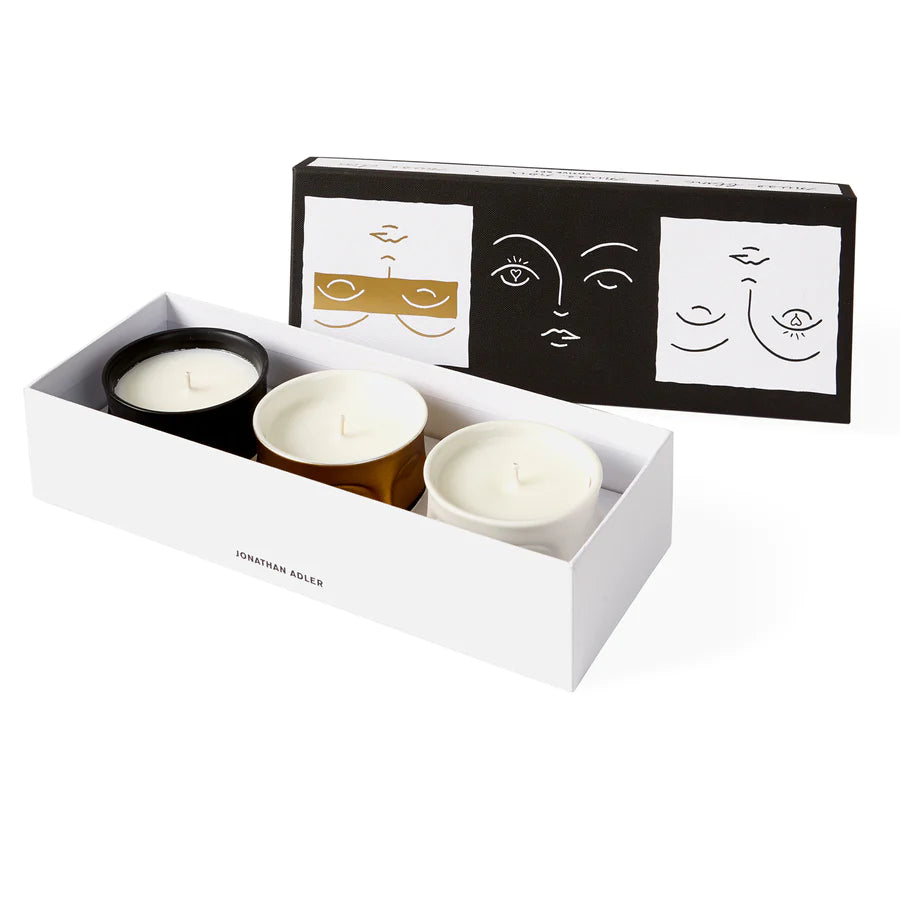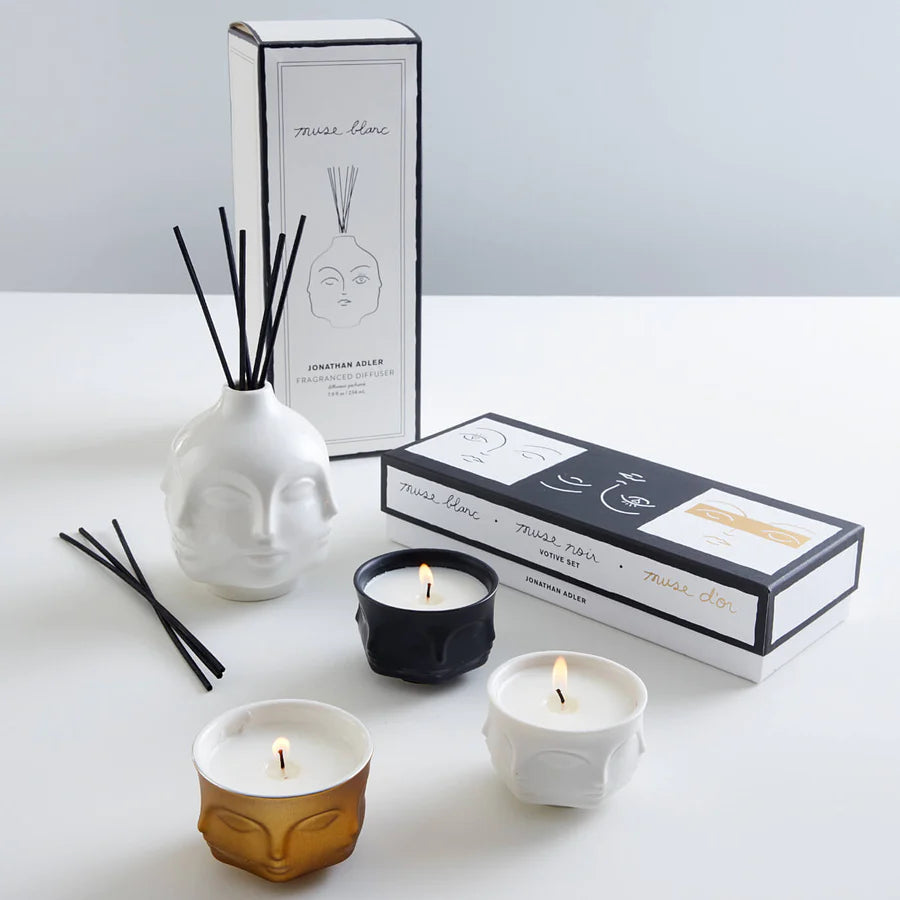 Muse Votive Set. Jonathan Adler
SI NECESITAS AYUDA PARA FINALIZAR LA COMPRA ESCRÍBENOS A INFO@ANCLADEMAR.COM O LLÁMANOS AL 913910146
Pickup available at Calle Barquillo 37
Usually ready in 24 hours
Muse Votive Set. Jonathan Adler
Calle Barquillo 37
Pickup available, usually ready in 24 hours
Calle Barquillo 37
28004 Madrid
Madrid
Spain
913910146
Featuring a trio of our iconic head-turners, each Muse Votive Candle Set includes all three of our most luxurious scents.
Muse D'Or is glamorous and effervescent in gilded porcelain.
The scent: pink pepper, sage balsam
Muse Noir is moody and mysterious in black porcelain.
The scent: deep notes of bergamot and black plum mingled with amber and vetiver
Muse Blanc is a crisp, floral moment in translucent white porcelain.
The scent: fresh cut flowers
Packaged in a glamorous gift box, each aromatic candle is poured into a perfectly petite reusable pot to keep after its candle burns out.

One white porcelain, clear glazed vessel

One metallic-plated vessel

One black porcelain vessel

Single wick, white wax candles

FEATURES & FEEL
Three (3) votive set

Our candles are a soy/paraffin blend for a cleaner burn and stronger scent reach

Approximate burn time: 12 hours each

Fragrances: Muse Blanc (fresh cut flowers), Muse D'Or (pink pepper, sage balsam), and Muse Noir (bergamot, black plum, amber, vetiver)

Set is boxed for gifting and storing

CARE & CLEANING

Minimize the amount of wax left on sides of the vessel and damage caused by overheating by not burning longer than 2 to 3 hours at a time
Trimming the wick regularly to a quarter inch will help your candle burn at a slower rate
Always trim the wick before lighting
WARNING: Do not let the candle burn all the way down—overheating will occur
ANCLADEMAR T-SHIRTS
XS - 45 cm (width arm) x 67.5 cm (length)
S - 48 cm (width arm) x 68 cm (length)
M - 51 cm (width arm) x 71.5 cm (length)
L - 54 cm (width arm) x 73.5 cm (length)
XL - 57 cm (width arm) x 75.5 cm (length)
OXFORD SHIRTS
XS - 96 cm (chest) ; 88 cm (waist); 72.8 cm (length); 65 cm (sleeve)
S - 102 cm (chest) ; 94 cm (waist); 74.8 cm (length); 66.5 cm (sleeve)
M - 108 cm (chest) ; 100 cm (waist); 76.8 cm (length); 68 cm (sleeve)
L - 114 cm (chest) ; 106 cm (waist); 78.8 cm (length); 69.5 cm (sleeve)
XL - 120 cm (chest) ; 112 cm (waist); 80 cm (long); 71 cm (sleeve)
SOFT COTTON SHIRTS
S - 104 cm (chest) ; 72 cm (length)
M - 108 cm (chest); 74 cm (length)
L - 116 cm (chest); 74 cm (length)
XL - 124 cm (chest); 80 cm (length)
CUSTOM SWEATSHIRTS, EMBROIDERED AND STAMPED
Xs - 48 cm (width) x 65 cm (length)
S - 50.5 cm (width) x 68 cm (length)
M - 53 cm (shoulder) x 72 cm (length)
L - 56 cm (width) x 74 cm (length)
XL - 59 cm (shoulder) x 76 cm (length)
NOMADIC ROPE SANDALS
36 - 22.99 cm (length) 
37 - 23.63 cm (length) 
38 - 24.27 cm (length) 
39 - 24.90 cm (length) 
40 - 25.54 cm (length) 
41 - 26.18 cm (length) 
42 - 26.82 cm (length)
43 - 27.46 cm (length)
44 - 28.10 cm (length)
45 - 28.74 cm (length)