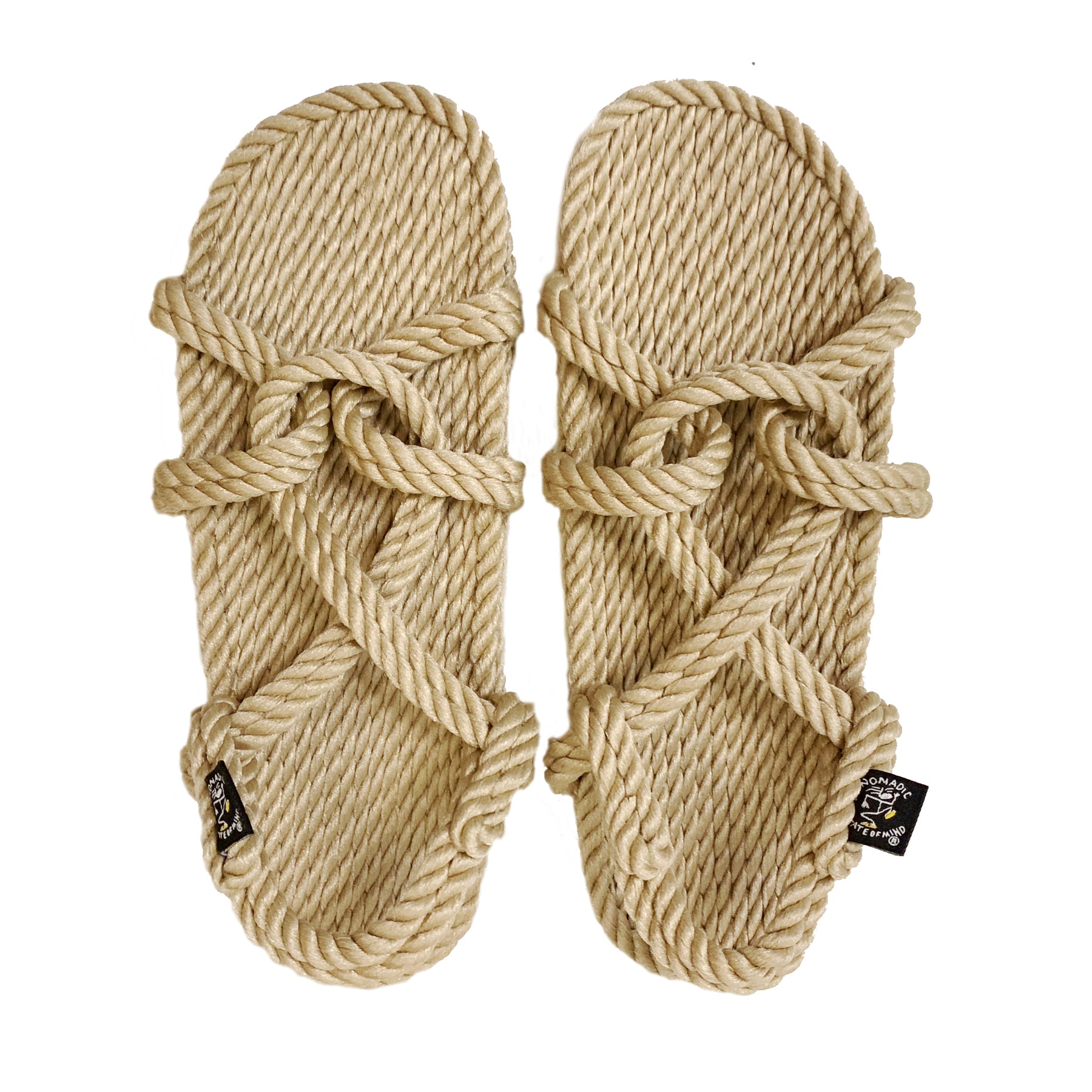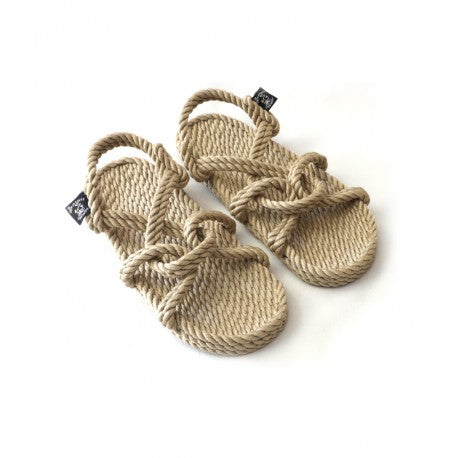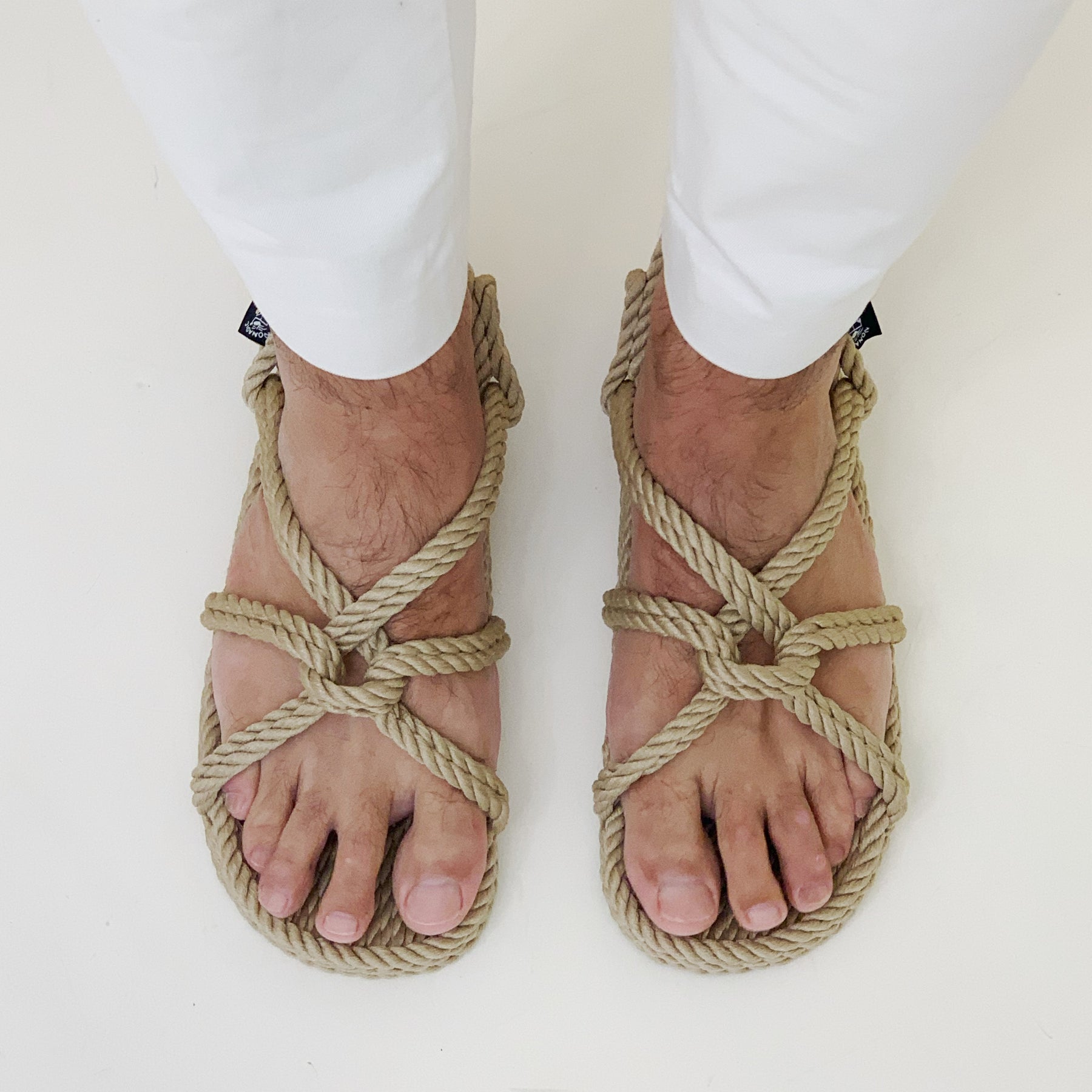 Mountain Rope Sandals
SI NECESITAS AYUDA PARA FINALIZAR LA COMPRA ESCRÍBENOS A INFO@ANCLADEMAR.COM O LLÁMANOS AL 913910146
Pickup available at Calle Barquillo 37
Usually ready in 24 hours
Calle Barquillo 37
Pickup available, usually ready in 24 hours
Calle Barquillo 37
28004 Madrid
Madrid
Spain
913910146
Unisex rope sandals, handmade with recycled materials and natural adhesive.
The rope gives it a smooth texture and makes you hold your foot without pressure.
Strong and durable
They can be washed in a washing machine. Do not tumble dry
Composition: 100% United States rope
Handmade in Nicaragua

Our sandals are made in an artisan workshop located in an old coffee factory in Nicaragua. They are made solely and exclusively by hand, following a meticulous manufacturing process and under the Fair Trade system.
They are made of polypropylene rope that we obtain by transforming plastic waste deposited in seas and rivers. It is a consistent material, durable and very pleasant to the touch.
Our sandals usually cut a little bigger than usual. So we recommend that you follow the following instructions before choosing your size:
SIZE ADVICE
• If you have a conventional or narrow foot, we recommend one size less than your usual size.
• If you have a wide foot, we recommend your usual size.
• If you usually cut a number and ½, we recommend the smaller size. For example, if your size is 39.5, stick with a 39.
• If you choose the SLIP ON model, do not take these recommendations into account. This model carves in a conventional way.
ANCLADEMAR T-SHIRTS
XS - 45 cm (width arm) x 67.5 cm (length)
S - 48 cm (width arm) x 68 cm (length)
M - 51 cm (width arm) x 71.5 cm (length)
L - 54 cm (width arm) x 73.5 cm (length)
XL - 57 cm (width arm) x 75.5 cm (length)
OXFORD SHIRTS
XS - 96 cm (chest) ; 88 cm (waist); 72.8 cm (length); 65 cm (sleeve)
S - 102 cm (chest) ; 94 cm (waist); 74.8 cm (length); 66.5 cm (sleeve)
M - 108 cm (chest) ; 100 cm (waist); 76.8 cm (length); 68 cm (sleeve)
L - 114 cm (chest) ; 106 cm (waist); 78.8 cm (length); 69.5 cm (sleeve)
XL - 120 cm (chest) ; 112 cm (waist); 80 cm (long); 71 cm (sleeve)
SOFT COTTON SHIRTS
S - 104 cm (chest) ; 72 cm (length)
M - 108 cm (chest); 74 cm (length)
L - 116 cm (chest); 74 cm (length)
XL - 124 cm (chest); 80 cm (length)
CUSTOM SWEATSHIRTS, EMBROIDERED AND STAMPED
Xs - 48 cm (width) x 65 cm (length)
S - 50.5 cm (width) x 68 cm (length)
M - 53 cm (shoulder) x 72 cm (length)
L - 56 cm (width) x 74 cm (length)
XL - 59 cm (shoulder) x 76 cm (length)
NOMADIC ROPE SANDALS
36 - 22.99 cm (length) 
37 - 23.63 cm (length) 
38 - 24.27 cm (length) 
39 - 24.90 cm (length) 
40 - 25.54 cm (length) 
41 - 26.18 cm (length) 
42 - 26.82 cm (length)
43 - 27.46 cm (length)
44 - 28.10 cm (length)
45 - 28.74 cm (length)